84
The Two-Page Strategic Plan Template
Download a free, simple, yet powerful, two-page strategic plan template to help you plan your business or personal life.

Several years ago, one of my best friends, Jeff Walker, taught me a very important principle.
Ever since then I've followed his example, and taken the time between Christmas and New Years off with no employees around to do two things:
1. Play with my family
2. Think about my business and life with the objective of planning for the next year.
At the end of that week I always try to have something in writing that summarizes my action plans. Usually, it comes out in the form of a Strategic Plan, a two-page document that guides my decisions and actions for the next year.
That one practice has done more to build my business than anything else that I do.
I propose that it may be a good idea for you to do this too.
Now, just in case you don't know how to do that, I've put together a template for you to use to simplify the process. This is a simple two-page document that contains the basics of a powerful strategic plan.
You can go lots deeper if you want, but this will give you the basics that you need to focus your actions on the key things that will grow your business this next year.
Sign up here to get your copy of my Two-Page Strategic Template – it's free!
It's a zip file that contains the template and a sample of it filled out for a fictitious business in both a Microsoft Word document and in PDF format in case you don't have Word. And here's a video that describes how to do fill it out.

The key here is that it's not the form that makes the difference, it's the thought behind it. So, I recommend that you plan on spending at least 2-3 hours in a quiet room, with no distractions to think about the elements asked for in this form.
Plus, this form can be used for multiple businesses. Simply fill a version out for each business, then do one in the end that summarizes everything. And, the first page of it is valuable for thinking through other things that aren't business-related at all. Basically the first page asks you to think through where you are now, where you want to be, and what you've got to do to fill that gap. In addition to thinking about how to grow your business and make more money, you could use it to think about and improve things like:
Your relationships with your spouse and children
Your hobbies
Your golf game
Your church
Remodeling your house
Your health
Your diet
Can you see how I could go on and on? Sign up here to get your copy of my Two-Page Strategic Template – it's free! The Zip File will arrive in your Inbox in 15-20 minutes.
Enjoy!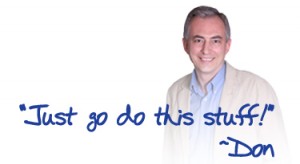 P. S. I'm thinking of someday including this in a product someday, so I'd really like to hear your opinions on it. Try it, see if you find it to be as powerful as I do. Then Like this page, Tweet about it, and leave a comment below!