Book Don Crowther as a Speaker
When you hire a speaker, what are you really looking for?
If you're looking for an hour of laughs, entertainment and maybe a motivational story or two thrown in for good measure, don't hire Don Crowther!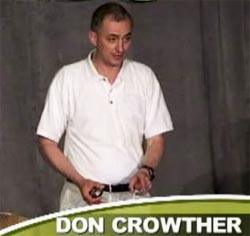 But, if you really want to create lasting change in the businesses and lives of your audience, to have them walking out of the room knowing exactly what they need to do to increase their sales and profits and how to do it, then Don Crowther is exactly the person you need to hire!
When Don speaks you get an energy-packed session, crammed with proven techniques that give your people new skills and ways of looking at their business and the world around them, inspiring them to higher levels of performance than ever before.
Put it this way, the three most frequent comments Don hears after a speech are:
"Wow"
"I took more notes in your speech than the entire rest of the day combined."
"I can go home right now, and know that I've gotten my money's worth from this conference."
Don's presentations move quickly, contain just the right amount of humor to keep things interesting and are content-rich. He has a unique ability to talk about technical subjects in a way that everyone can understand, and in a way that gives people just the right level of information they need to implement the techniques he teaches. He teaches market-proven techniques that really work, generating hundreds of millions in profits for companies with which he has worked over the last 25 years.

Don's Topic Areas
Don's not your typical speaker with a portfolio of speeches covering everything from leadership to diversity and time management, with a humorous keynote speech thrown in for good measure. Don believes that the only way one can truly create real, lasting change in audiences is to speak on what one lives. Therefore, Don focuses on three areas:
Social Media Marketing
Online Marketing
Marketing Strategies and Tactics
Programs can be tailored for the needs of your specific audience, and can be given in 60-90 minute, half-day or full-day formats.

Fees
Don's fees start at $7,500 plus expenses. Please contact him to discuss fees for your specific event.

Client List
Don is a popular speaker at conferences and Internet Marketing events, and has spoken at numerous events, including those sponsored by:
Internet Marketing Events:
StomperNet
Jeff Walker
Eben Pagan
The Affiliate Summit
BlogWorld
Ken McCarthy's System seminars
Plus many more…
Non-Internet Marketing Events:
Northwestern Mutual
TEC (now Vistage)
Wisconsin Manufacturing Extension Partnership (WMEP)
National Speakers Association
Minnesota Telecom
Brigham Young University Education Week
Especially for Youth (EFY)
National Association of Purchasing Managers (NAPM)
And many more…

Attendee Comments
Here is just a small sampling of audience responses from Don Crowther's recent presentations:
"I learned more in one session with Don than in all the rest of this three-day conference combined. Don's an amazing speaker and a powerhouse of information."
Barbara Bartlein
Great Lakes Consulting
"Tony Robbins has nothing on this guy – and he spoke about the Internet! Who'd have thought anyone could make the Internet interesting? Every business person should hear this speaker!"
"Don Crowther's presentation was the most informative I've experienced in years."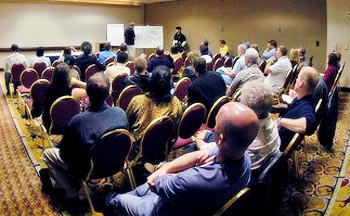 "Great humor! Makes learning fun!"
"Fast-paced with REAL usable information!"
"I am pumped up again!"
"I've never gotten so many great ideas in so short a time from anyone!"
"I learned more from Don in 1 hour than I learned from a full-day conference
that I attended last week"
"Dynamic–a good blend of real-life examples and results oriented marketing strategy"
"Great information – at a level that I could totally comprehend."
"Don Crowther is a great speaker, marketer and thinker who has helped build our company in many ways. We recommend him to anyone who wants higher profits!"
Ann Pettibone
Drewco Corporation
For more information on booking Don to speak for your company or at your next event, please complete the form below:
Find Out More About Don Crowther