8
Pinterest: Removing Pinterest Pictures and Pinners You Don't Like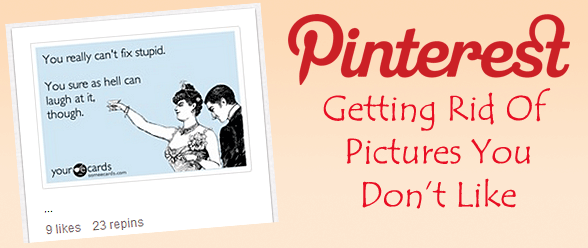 One of the challenges with Pinterest is tailoring your board so that you only see the type of images you want to see, and don't see those you don't want to see.
For example, not long ago, one of the guys who I follow posted 40-50 pictures of bacon every day for a week. (What IS it with men and bacon these days, anyway? I know it tastes good, but this is becoming ridiculous!)
Then, a couple of days ago, another guy started posting multiple pictures of scantily-clad women every day. Not only did that make me uncomfortable, but I'm not really interested in having my wife walk in and ask me what I was doing…
So, how do you get rid of pictures that people are posting that you don't want to see?
Until Pinterest improves its filtering capabilities, it comes down to either unfollowing the individual doing the posting or unfollowing the board that's not working for you.
want more traffic and sales?
Hi, I'm Don Crowther, and one of the things I love most is helping you build your traffic and sales. The only question is - is that what you want too?

If it is, click the button below, and I'll send you powerful tools and techniques to help you achieve that goal.
Here's a 3-minute video that demonstrates exactly how to do it.
httpvh://youtu.be/8m78uqQRAco
Like this, have questions or comments? Leave a comment below. And don't forget to share, like, tweet and pin this post!