Google just released the results of a new study that showed that sites that are not mobile friendly actually cost  the sites business.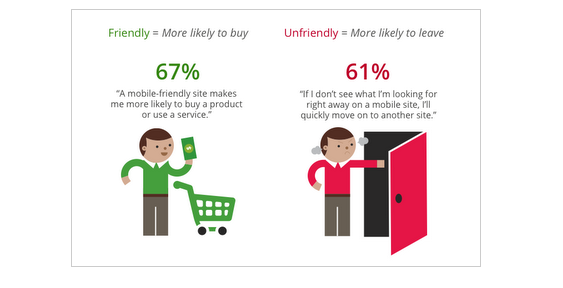 Some of the factors they cited:
67% are more likely to buy if the site is mobile friendly
50% said that if they went to a site using their mobile device and it wasn't mobile friendly they would use that site less often
48% said they felt the company didn't care about their business if their site wasn't mobile-friendly
So what does this mean for you and your business?
Certainly, if your site is not yet mobile-friendly, it needs to be one of your first priorities to make it so.
This is even more important if your competitors are not yet mobile friendly

So don't fall for the argument that you don't need to do it because none of your competitors have done it yet
It can actually be a competitive advantage for you!
My suggestion is the same as it always is… just go do this stuff!
Is your site mobile-friendly? What's holding you back? Let us know by leaving a comment below. And don't forget to Like, Share, Tweet and Pin this post!