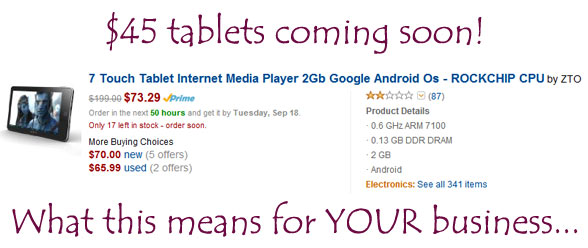 I just read a very interesting article about how generic Android-based iPads are available right now for prices that allow them to retail for under $45 each.
And it's coming soon. Potentially for holiday sales this year! Certainly, between the new Kindles, the iPhone 5, and potentially these, we're going to see millions more portable devices in the hands of people, worldwide within the next couple of months.
What does this mean for your business? Several things come immediately to mind.
1. Have you installed a mobile version of your site/blog yet?
I recently surveyed my 5 highest traffic site and found the following percentages of traffic coming from mobile devices:
19.1%, 7.8%, 8.9%, 11.5%, 26.2%
It's probably safe to assume that somewhere between 7% and 25% of all your traffic is trying to read your site with a mobile device.How does it appear to them?
WordPress blogs are incredibly easy to fix, just by installing any number of mobile plugins. Â It's time to fix that!
2. Have you released your company's mobile app yet?
Mobile device users oftentimes prefer to work with an app rather than to access your site through their web browsers.
Plus, by getting them to install your app, you're their on their screen, giving you a much higher chance of being accessed than being one of billions of other websites.
But here's the key – you can't just do an iPad app and call it done. Remember, these $45 tablets are Android devices – it's vital to do both!
3. Have you perfected your mobile checkout system yet?
Remember, if someone is accessing your pages through a mobile device and they decide to buy, they aren't likely to remember to do it later from their home computer.Every online business should buy something from their store using
A cellphone (both an apple and Android version)
A 7″ tablet
A Kindle Fire
An iPad
Test to see if the process worked, if the screens could be easily read and navigated, and if that checkout process will contribute to getting you more sales rather than hurt that process.
Then change things if necessary!
4. Double check all of your videos to ensure that they play appropriately on both Apple (which don't use flash) and Android devices.
Then make changes to fix the situation if you have to!
These steps are important enough, that they definitely should be on your company's hot-list to be finished by the end of this month. I know I've got some changes to make in my own sites by that time too!
What other implications do you see? What else should we all be doing? Let me know by adding a comment below. And don't forget to like, share, tweet and pin this post!