Did you know that there is a whole set of additional analytics data you can get from your WordPress blog that you probably aren't accessing now?
Information about your traffic, where it comes from and what it does while its on your site?
Information that's key to building your business?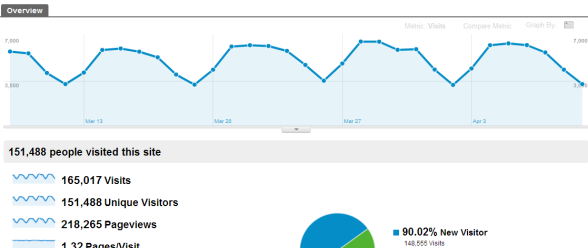 Like the ability to group data by:
Categories
Tags
Authors
Publication year
Authors
But to do so, you have to use a cool, free plugin.
Of course, all of this data is in ADDITION to the all the powerful data you're currently getting from Google Analytics.
Or, perhaps (gasp) you may not even have Google Analytics installed on your blog!
You've come to the right place. Here are two videos that will walk you through how to install and configure an incredibly powerful, yet simple WordPress plugin that will give you full access to the amazing power of the free Google Analytics tool.
Here's the first video that shows you:
How to find and install the Joost de Valk's Google Analytics for WordPress plugin.
How to set up a Google Analytics profile for your blog
How to tie the two of them together, so that everything works
So that you know, this video is specifically designed for someone who is inexperienced in the process of installing and setting up WordPress plugins. So, if you're already an experienced WordPress plugin installer, skip this one and watch the next one.
But if you're at all uncomfortable installing WordPress plugins, watch it now!
Now, here's the video that everyone, no matter what your level of experience needs to watch. It shows the key settings in the Google Analytics for WordPress plugin that allow you to get a bunch of incredibly valuable information that you're probably not getting from your blog right now.
So, no matter how advanced you are with WordPress,
And even if you've already got Google Analytics installed on your blog…
You need to watch this one!
So, what did you think? Are you running out right now to install it?
I think you should!
And don't forget to Like, Tweet and leave a comment. We LOVE feedback!
Don