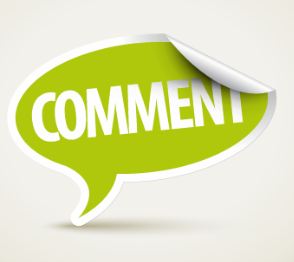 As a blogger you're in the business of interaction – not just action.  Let me explain.
It's very important, for a whole host of reasons, for you to blog. It's great for your SEO, it's great for your client relations, and it's great for your brand.  But you don't want to be blogging "in the dark."  You want and need to have your readers commenting on your blog when you post something.  Because let's face it – if a blog posts in the forest and no one comments …does it count?
Okay so if you're getting few or no comments, here are some things you might think about changing:
Are you asking for a comment? A blog is like any other online sales or marketing tool. You need a clear 'call to action.' If you don't end your posts with a "What do you think about X? Tell me your personal experiences with X below!" you might be risking otherwise reticent readers never speaking up.
Are you giving them a call to act to your archives? The only thing worse than giving them no call to comment-action at all, is giving them a call to action to do something other than comment. So don't end your post with something like "For more information, check out my post here" and hyperlink it to your archives.  If they're good little fans, they'll do exactly that!
Are you sending them off your site? This is a perpetual debate – should I link to other sites outside of mine. Personally, I think it's a good idea for a lot of reasons. This is, after all, a community where you're trying to build trust. Just be careful, and be wise.
Are you overcomplicating the process? It's fine to require a captcha. But most of the time you don't need to if you're using the solid spam removal tools that are built into many of the best plugins out there. And, it's death to your comment traffic to require a 10-step process in order to leave a comment. Keep it secure, but keep it simple.
Are you saying too much? Don't blog and then answer each and every question you pose. Keep some of them open-ended. Don't solve every mystery. Invite your readers to help you complete your discussion.
Are you posting at a bad time? If you're blogging to a Catholic readership, try not to do so on Sunday morning. They're at mass and not online. The point is – know your audience. If you think most of them are out Friday nights, then don't post fresh content at 9pm on a Friday. Hold it until Monday at 1pm and see the comment difference.
Ask questions. It's amazing how much value you'll get out of asking questions in your posts, especially if you ask them right at the end. And, don't forget to remind them to like and tweet you while you're at it!
Finally -  shhhhh.Overlong posts tend to make your readers doze off or lose interest. Even if they're interested in what you're saying, they may run out of time and bookmark your post for later.  And  often, later never comes.And neither does that comment!
What techniques are you using to get more comments to your blog posts? Let me know by posting a comment below. And don't forget to Like, Tweet, Pin and Google+ this post!