A recent survey (sponsored by Network Solutions, so presumably it's not too biased) revealed that social media is rapidly becoming a powerful business-building tool for small businesses.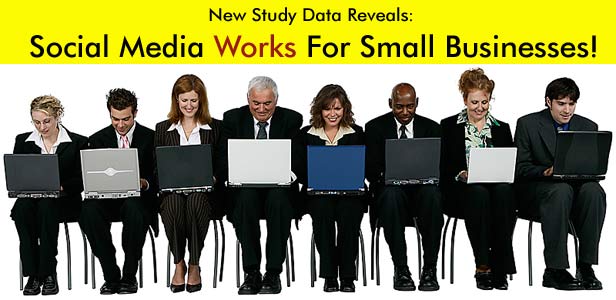 This study revealed that:
Just 18% of small businesses actively use social media to build their businesses
Of those who do use it:
70% indicated that their social media presence met or exceeded their expectations, with only 26% indicating that it fell short of expectations
61% stated that social media brought them new customers
52% found it developed a higher awareness for their organization with their target market
46% stated that it helped them stay engaged with current customers
Only 6% reported that negative comments by dissatisfied customers hurt the image of their company more than social media helped it
50% found that it takes up more time than they expected
75% reported that they broke even or made money using social media, in spite of the time required to actively participate
84% believe that they anticipate that they will either break even or make money with social media within the next year
It takes some time to initially set up social media systems and learn how to use them effectively. Once that time has been spent, future efforts become much more profitable.
What can we learn from these results?
Social media is worthwhile – there's a high probability that you'll at least break even or make a profit through your social media efforts (and, my belief – if you do it correctly, avoiding key mistakes, you're much more likely to make money!)
Social media brings in new customers, builds your image, and helps you stay engaged with customers
It does take time – but the results are worthwhile!
If you're not using social media to build your business, you need to start, NOW!
Study data for those who are curious: This study was sponsored by Network Solutions, and conducted by the Robert H. Smith School Of Business at the University of Maryland. The data cited here comes from the third wave of the study, interviewing 500 small-business owners in the U.S. in December 2009. Small businesses were defined as having less than 100 employees, were not publicly traded, were for-profit, and had payroll or contributed at least 50% of the owner's household income. Results were weighted to ensure representativeness to the entire small-business population of the U.S.
How can I help you build your business? What's your experience with social media? Let me know in the comments below!