How To Get To The Top of Google Natural Search Rankings – What's Working In SEO Right Now!
People all over the world struggle with how to get to the top of Google's natural search engine rankings.
As you know, that's always been a moving target, especially with the changes Google has made in the last year and a half.
One of the key things that has happened in that time is that most of the classic SEO strategies people have used for years no longer work.
But there is one thing that most people don't consider when it comes to search engine rankings – social media!
See the results of a study of over 10,000 keywords, and how each factor correlates with top search engine rankings in this infographic.
See the box below for instructions an embed link so you can display this on your website.
Clickable Links:
How To Use Social Media To Get Improve Your Search Engine Rankings
Infographic UPDATES: 
Added a key to the table, showing the meaning of the * Much less important than last year, ** Much more important than last year, and *** Heavily influenced by major brand name sites symbols within the specific factors that influence ranking tables
Changed 25% to 26% in top graph for consistency (rounding differences)
Provided study methodology at the bottom of the infographic, so readers can see how robust this study really is
I've also produced a short video that explains each element of this infographic. You can watch the How To Get To The Top Of Google – SEO here.


Get your Infographic Templates!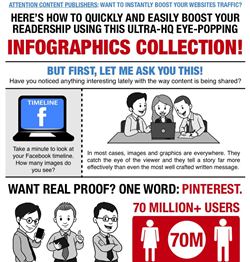 Here's what I used to create this infographic. Take a look – lots of choices for you to try out. Even if you have a graphic designer, you can play around with the templates and then hand it over to them for the final touches. You'll be thinking infographically in no time!
Click here to get your –> Infographic Templates!What do you think of these strategies? Let me know by leaving a comment below. And don't forget to +1, Share, Like, Tweet and Pin this post!
Click on the links below to make any of these tweets:
How to get to the top of the Google search engine rankings   Click To Tweet
Bet you can't guess the #1 way to get to the top of Google  Click To Tweet
Infographic – What's working now in SEO  Click To Tweet