Thank You For Registering For The Webinar!
Step 1: Add The Event To Your Calendar
Click the blue button below to automatically add this event to your calendar:
2015-11-20 15:00:00 2015-11-20 16:30:00 America/New_York Webinar: 6 Powerful Techniques To Get More Traffic To Your Blog How to get more traffic to your blog Your Computer Don Crowther helpme@doncrowther.com
This webinar will be broadcast live on Friday, Nov. 20th at:
3:00 - 4:30 pm Eastern
2:00 - 3:30 pm Central
1:00 - 2:30 pm Mountain
Noon - 1:30 pm Pacific
8:00 - 9:30 pm in London
Step 2: Attend The Webinar
Check your email for the login you will use on Friday.
Be sure to arrive early, because spots are limited, and this webinar will fill up fast!
While you're waiting for the webinar, I invite you to consider that:
There are really ONLY 5 ways to make money from your blog!
---
And if you're not using EVERY ONE of them
I GUARANTEE You're Leaving Serious Money On The Table!
It's so sad...
To see so many bloggers losing so much money they rightfully could and should be earning every single day!
​Seriously, you're doing the work to create and promoting your content, driving targeted people to your site,
Then you only make a fraction of what you COULD be making from that traffic!
Let's change that!
Let me show you the top 5 ways of making money from your blog...
Every one of which you SHOULD be using...​
At the SAME TIME!
In the Profit-Generating Program:
---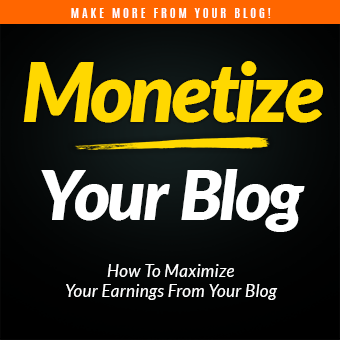 In this program you'll discover:
The 2 key realizations about monetization every blogger MUST totally understand

before they can REALLY start making money from their blog



The 5 most profitable ways to monetize your blog

, every one of which you should be using, at the same time, on your blog, every one of which could easily add 25% or more to your current income



The one thing, that if you have it, will cause mid to Fortune-500-level companies to beg you to take their money

, and what you have to do to get it!


The one technique

that will give you a consistent, literally guaranteed, income every single month

of the year!



The biggest mistake almost every blogger makes

when trying to monetize their blog


The one key blog monetization task you MUST outsource if you want to break 6 figures in blog revenue



The two secrets virtually every 7-figure blogger is using

that makes their million+ dollar income possible!
​
I have a question for you:
How much would you be willing to pay to add $25,000, $100,000, or even a million dollars to your bottom line every year?
That's good, because I'm only going to charge you a fraction of that to reveal these secrets to you!
Because, for a limited time, this program is available for only $197!
The Monetizing Your Blog program is now instantly available, so you can start taking advantage of these techniques today!
SPECIAL BONUS: The Mr. X Interview!
​
I recently talked with Mr. X, (who has asked me not to reveal his name in this public of a setting,) who is quietly cashing hundreds of thousands in checks from companies who want access to the audience he has built through his blog.


He gave me his permission to share with you our conversation where he taught me his biggest secrets to getting corporations large and small to send him 5 and 6-figure checks every month to sponsor his blog!


​And I'll give you a hint - Mr. X's blog has NOTHING to do with Internet Marketing. In fact, it's all about issues that you and I deal with almost every day. You're going to be blown away when you see this business!


This interview is going to cause you to see things totally differently as you see one way the "big boys" really monetize traffic! This Mr. X Interview has NEVER been offered before, but it could literally put hundreds of thousands on your bottom line this year!

Take your BLOG earnings
to new heights!
Get Instant Access To "Monetize Your Blog" to discover the top 5 ways to monetize your blog, effortlessly adding tens of thousands to your bottom line, plus get the Mr. X Interview for just $197 by investing now!
100% MONEY BACK GUARANTEE
---
If, for whatever reason, you are dissatisfied with the contents of this program, simply let us know within 30 days of your order, and we will gladly refund your money!
Earn More
by better monetizing your blog!
Simply register below to get instant access to Monetizing Your Blog and get the Mr. X Interview free!