What do one-day sales ads from Macys and Kohls have to do with getting more optins to your list?
httpvhd://www.youtube.com/watch?v=0MRurPwDW-M
How to Double Your List and Increase Your Sales!
How's that tired old ebook optin incentive you've been offering been doing for you lately?
People spend hundreds of hours tweaking their optin boxes, creating popups, and playing with their squeeze pages, without significantly changing their results.
All without ever changing the one key factor that most influences the number of optins they get:
Their Optin Incentive!
It's not uncommon to see increases of 2 to 20 times increase in optin percentages simply by offering a different optin incentive!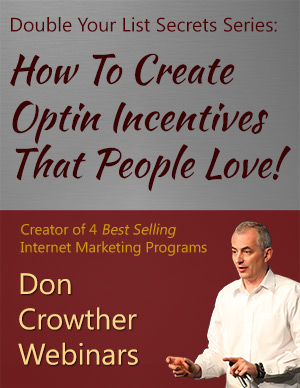 In this 90-minute paid webinar we will cover:
– The little-known facts that most people are clueless about regarding the strategic importance of optin incentives in your total business
– The 5 types of optin incentives that attract the highest optin rates in today's competitive marketplace – exploding your list size!
– How to choose an optin incentive that attracts your target market like mad while absolutely repelling those who aren't in your target audience
– The secrets to using your optin incentive to actually sell more products and services without sounding like a sales pitch
– How to daisy-chain your incentives to get people to optin to other products too, building your relationship with them and increasing the probability they'll do business with you in the future!
$47, and you'll also get the recording and all of the handouts!
The webinar will be April 4th at 9:00pm ET, that's 8:00pm Central and 6:00pm Pacific. Can't make it, don't worry, all purchasers will also get a copy of the recording and the handouts!